Please Click this Video !!!
It is important
11

talk

has experienced expert teachers.
We are proud to have seasoned and expert teachers who provide a result-oriented English class after completing the 12-stage training offered exclusively by 11talk.
With the availability of modern class tools combined with professional strategies, they produce interactive class sessions. Our teachers are well-adept in handling ESL Courses and Test Modules like IELTS and TOEIC.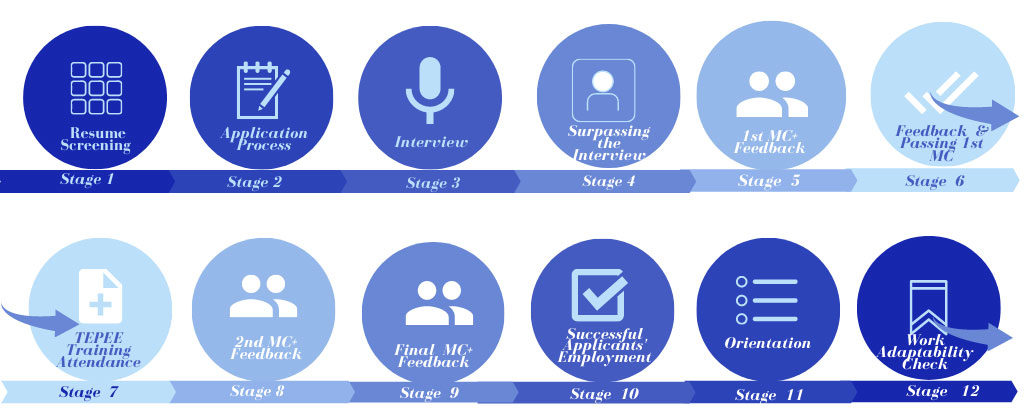 Teachers who have passed strict employment standards
Effective

Learning System
With over 20 years in the English industry, we take confidence in helping our students reach a higher rate of Language improvement. Our current learning system caters to effective information retention that leads to practical language usage and higher test results.
Step 1: Preview
Easy Access on lesson preview
Step 2: Lesson
interesting live 1:1 English Class
Step 3 : Writing Homework
Extensive learned expressions Practice
Step 4: Review
Teacher's daily feedback and Practice.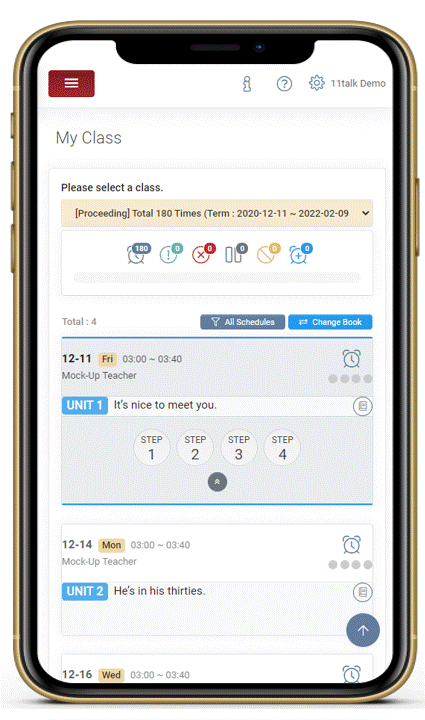 There is no way for you to forget attending your classes.

Click the Start Class Button in SNS Alarm
Auto SNS Alarm Message
1. Class Preview, 30mins before the live class
2. Teacher's Daily Feedback
3. Written Homework Result
4. Online Staff's Consultation result
Function in SNS Alarm
1. Immediate Joining of Class
2. 10-second class postponement button
3. Regular class preview,review and homework completion promotion
4. Check the Homework Feedback and Teacher's Comment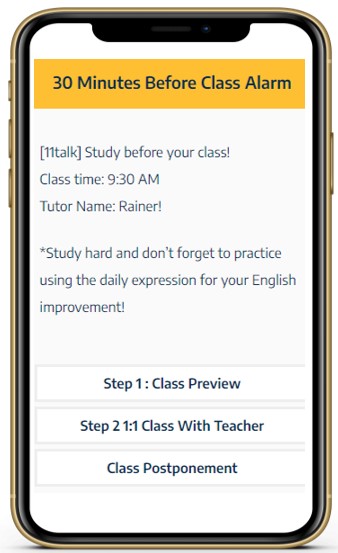 Our learning materials are CEFR-Aligned and are offered

for free.
We support your English learning goals through the availability of more than 2000 learning materials. The materials are recommended based on the level test assessment that we give for free. 
Speaking Course
Daily Conversation 1~8
Power Speaking 2~10
Free Talking 6~10

Junior Course
Phonics 1~3
Let's go 1~6
Junior FreeTalk 3~6
Junior News 3~8

Special Course
Business English 1~3
Job Interview 1~2
IELTS 1~2
IELTS Advanced
TOEFL
TOEIC

Our learning scheme gives you the best learning option in experiencing high-quality educational services.
Free Booking
10% Discount
* Free booking is for professionals who want to have flexible study time

* students who want to take free discussion and other courses to attain an English level upgrade.
Class Minute
2times
per week
3times
per week
5times
per week
20min Class
$51
$64
$86
40min Class
$74
$95
$122
---
Fixed Booking
10% Discount
* Skip your worries on daily booking! is recommended for
* Students who need schedule management and study motivation for immediate English skills improvement.

Recommended for courses like job interview and English test scores in short duration.
4weeks
tution Fee
2times
per week
3times
per week
5times
per week
20min Class
$68
$86
$108
40min Class
$99
$126
$153
What do people say about

11

talk?
Join our satisfied and successful 33k graduates. Find out what they have to say about their learning experience at 11talk. 
Student

​

I was a student who always had a fear of communicating in English. Through online English classes I am able to break the language barrier as it gave me confidence to interact with foreigners.

Thank you so much for the kind and easy way of teaching me in class.

If you have hesitations like me in starting your English class, I highly recommend 11talk.​
Business man




Since I was a student, I wanted to study English constantly, but when I started my company life, I didn't have time to attend an English academy. However, it was great to be able to study English comfortably at home through 11talk video English after work at the company.

There is no restriction on movement, and it seems to be a big advantage of video English that it can be done with only a laptop and a headset.

I am highly recommending this to busy professionals like me.

​

​
Student

​

While I was in college, I studied TOEIC and earned points, but in reality, I realized that I was too short of conversation.

So, with the recommendation of an acquaintance, I learned video English and took 11talk classes.

At first, wouldn't the computer class be lacking in efficiency?

I thought like this, but after taking the class, my thoughts completely reversed 180 degrees.

​
Former Pines Student

​

If you want to study English, I recommend 11Talk.

There are many teachers, and I think it's easy to improve my English because I can study with a teacher and the class style that suits me.

In addition, when I needed to be absent in class due to personal reasons, I was able to reschedule the class with the help of the staff. I have improved my English, so I recommend it based on my experience.

​
Business English student

​

Finding time to study English was quite challenging for me because of graduate school.

However, 11talk made me utilize my time in between studying and researching. I took the Business English Course.

I experienced high-quality English classes with qualified teachers. I recommend the 11talk class for people with hectic schedules. You should stop doubting on Filipino pronunciation and accent, I'd like you to know that the Philippines got the top rank in BEI (Business English Index) and this means that Filipinos are great communicators most especially in the global business sector.

​
Job Seeker

​

I always had a hard time preparing for an English interview. So, while looking for practical business and job-related English classes, I came across 11talk. There were many courses in 11talk, among which, I was able to focus more on English interviews and business English by applying for special courses.

I gained a lot of knowledge about English through this class, but the biggest thing seems to be that I gained a lot of confidence in English.

I am very satisfied and I think I will be able to do well in the upcoming English interview.

​
10% Discount for New Enrollees, for as low as $51!